STEM Fest 2019
Hours before last week's power outage, MTS faculty, grades 5-8 student volunteers, and parent volunteers gathered on campus to welcome over 65 families to participate in our annual STEM Fest!
From preschoolers to 3rd graders, STEM Fest offered something for everyone:
For those who love getting messy, Toni stole the show with Bubbles and Slime— she ran out of glitter in the first hour!
In the Robotics Room, Trisha, Mike, and student volunteers offered many opportunities for hands-on engagement with computational thinking. Kids could program a robot to play a xylophone, make it play basketball, or choose an Osmo station in the computer lab (Scroll to the bottom for robot videos!).
Not to be outdone by the xylophone playing robots, Suzanne, with the help of MTS students, taught everyone how to make their own harmonicas— with popsicle sticks! She also brought out the inner nature scientist in all of us with owl pellet dissection and seed balls.
For the emerging engineers in the Kindergarten room, Whitney, Meagan, and MTS volunteers had them fully occupied designing and building massive cardboard houses.
And who knew that math could be used to fight battles with sheep? Our students ran an engaging activity on our outdoor number grid, while Jen, Rob, and more student volunteers took things to another level with several creative math games.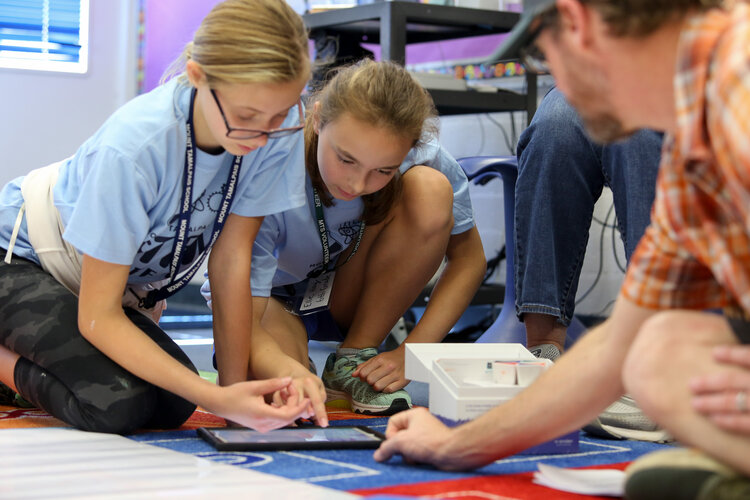 And finally, MTS parent volunteers Erin, Todd, Miranda (and the sun!) – helped us bring out our inner artist, using various natural objects to create Solar Art!
Thank you to all of our amazing volunteers, faculty, visiting families, and most of all to PG&E for waiting until the event was over to shut the power off!
---
If you like the sound of STEM Fest, but didn't get the chance to volunteer, email Amy Pearson (apearson@mttam.org) to get on the volunteer list for STEM Fest 2020!