Outdoor Ed Highlights
Michael Sullivan (MTS English teacher and Yosemite Trip Leader) discusses the MTS Outdoor Ed program, and describes how leading the trips has impacted his own life. 6th, 7th, and 8th graders share their own personal trip highlights.
BY MICHAEL SULLIVAN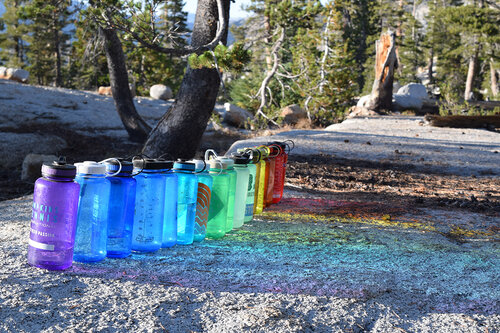 In murky, pre-dawn light we emerged from our frost-covered tents, smoke billowing from our mouths in the bracing morning air. We discovered our plastic water bottles frozen solid, and the Nature Bridge guides squatted next to a stubborn gas stove, coaxing it to life. As we scurried about camp, breaking down tents and loading our packs for the trail, the blue-white, half-moon summit of Cathedral Peak gazed indifferently at us. Slowly, sunlight creeped onto the granite rocks around us, and as we munched on hot oatmeal and apple cider, we started shedding winter hats and down puffer jackets. Within two hours of waking up in twenty-degree weather, we marched out of camp in t-shirts, sweating.
The Yosemite backcountry trip is one of the most incredible student experiences at MTS, the culmination of a four-year outdoor education program that begins in 4th grade with the Balclutha overnight and continues through progressively longer and more demanding experiences in 5th, 6th, and 7th grade at the Marin Headlands, Westminster Woods, and American River. The trips challenge students to leave their urban comfort zones, to enjoy life in the outdoors, to build relationships with classmates, and to complete academic projects like (on the Yosemite trip) a descriptive nature journal for English and a photographic, ecological investigation for science.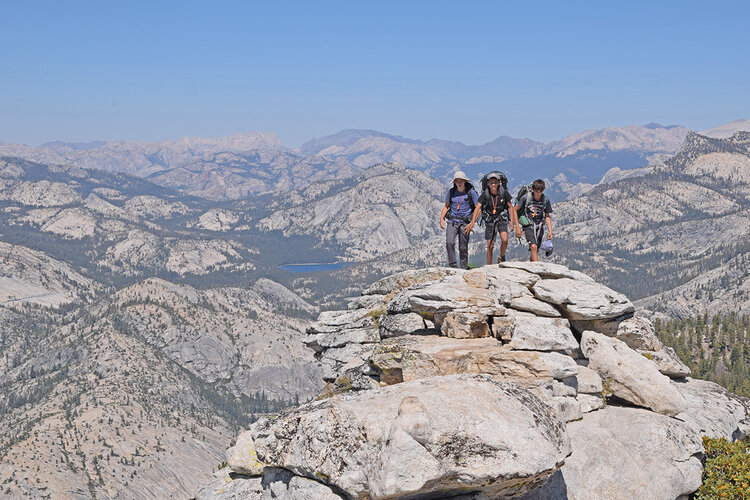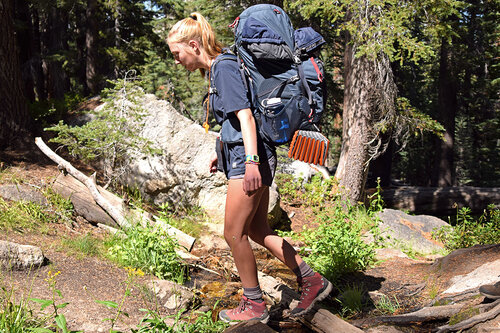 The first two days of the trip involve orientation at the Crane Flat campus, where students stay in cabins and eat in a small cafeteria. On the third morning, students hoist onto their shoulders 65-liter backpacks weighing up to 40 pounds and head off on the trail for three nights in the Yosemite backcountry. Over the next three days, hiking groups cover over 25 miles and over 2,000 feet of elevation gain, set up nightly camp in primitive sites, filter their own water, and help prepare hot meals cooked over compact gas burners. A "challenge" hike is also built into each expedition, conquering peaks exceeding 10,000 feet in elevation such as Mount Hoffman, Clouds Rest, and Vogelsang Pass.
The Yosemite trip is an inspiring experience even for teachers who chaperone. My first trip with the school in 2013 was also the first backpacking trip I had been on since I was 16. And while I certainly made some mistakes – packing a cotton hoodie and no sleeping pad – I also developed a newfound love for the outdoors and began hiking and camping in my free time. I also feel so fortunate to have attended three trips under the leadership of Eric Kielich, who chaperoned more than thirty-five Yosemite trips with the school (including a couple Half Dome summits!), inspiring hundreds of students – and their teachers – to appreciate the benefits of time spent in the wilderness. As John Muir, one of Eric's favorites, famously observed, "When one tugs at a single thing in nature, he finds it attached to the rest of the world."
We are so fortunate as a school to continue to enjoy special backcountry treks in Yosemite. Here's to many more years on the trail.
---
6TH GRADERS ON WESTMINSTER WOODS
STELLA BAILEY
Favorite Part: Soaring through the tall redwood trees on the ropes course
Least Favorite Part: The lingering smell of bug spray
Most Surprising: The food wasn't that bad
What I Gained: I gained a lot of confidence in myself, and learned I can overcome fear
KASPER POTTER
Favorite Part: Swimming in the pool
Least Favorite Part: The food
Most Surprising: Late bedtime
What I Gained: I gained a better understanding of species at risk in our watershed, such as Coho salmon
LUCY ROBINSON
Favorite Part: Swimming in the pool, gaga ball, and ropes courses
Least Favorite Part: The night hike
Most Surprising: I didn't know huckleberries tasted so good
What I Gained: I didn't think I'd be able to hike alone without getting lost
---
7TH GRADERS ON THE AMERICAN RIVER
KAILAN ROBINSON
Favorite Part: My favorite part of this trip was the rafting because I got a chance to really get to know my classmates
Least Favorite Part: My least favorite part was the journaling because my secret spot was in the sun, it got really hot
Most Surprising: What I found most surprising about the trip was the temperature. When we would go to bed it was warm but around two a.m. the temperature dropped significantly.
What I Gained: I got closer to my classmates. I found hidden interests in some and made closer friends
ANNA PICASSO
Favorite Part: Doing the rafting
Least Favorite: The nighttime because it was very cold, and we had to put on a lot of layers and when we woke up we would be freezing
Most Surprising: The rafting wasn't as scary as I thought
What I Gained: I didn't think I could do the high ropes courses because I'm very scared of heights, but when I did them I was pretty proud of my myself
---
8TH GRADERS ON YOSEMITE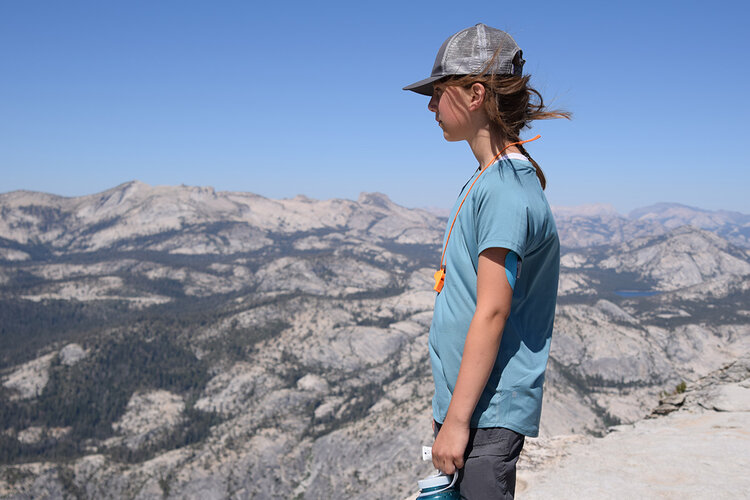 EWAN SMITH
Favorite Part: Standing above the picturesque valley on Clouds Rest
Least Favorite: Aching hips threatening to collapse
Most Surprising: Managing to get a good sleep every night
What I Gained: A sense of accomplishment I didn't think I could achieve.
FALLON O'KEEFE
In Yosemite, everywhere you turn is another amazing view. The views are so stunning that while looking at them, the cold just fades away. The views were like pictures that you could stare at for hours.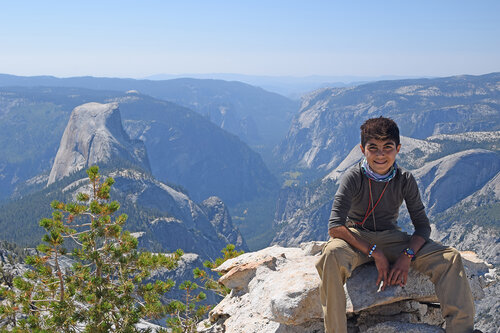 CAMERON YAMINI
Every night and morning in the wilderness, I would look forward in anticipation to be gifted with another stunning view of the sun setting and the moon rising. They would turn a magestic hue of orange while slowly spreading out over the dim horizon. All the gorgeous celestial beings left behind in their trace were just a hint of color as it all faded away into complete darkness, as it takes over the night while we wait until the warmth of the sun when it rises again.