MTS Distance Learning Program
None of us could have foreseen the scale of the COVID-19 pandemic. While all of us continue to grapple with the current state of affairs and the shelter in place ordinance, the MTS community has truly come together. We have witnessed and benefited from the strength and resilience of our community. Within days of the shelter in place announcement, our incredible faculty and staff put together a Distance Learning Program (DLP) in order to continue educating our students through a remote program. We created a DLP website and introduced technology such as Zoom meetings, leveraging and extending Google classroom in the Lower School grades where applicable as well as our 6–8th grades.
It has taken time to adjust to the new normal. We learned a tremendous amount as a community about remote learning during the first 3 weeks working with our Distance Learning Program. While we had many successes, we realized the need to optimize the program to create a longer term, sustainable solution. So we asked a mix of parents, staff, and faculty for help designing DLP 2.0.
Here's what it took:
50 parent survey responses

9 in-depth family zoom interviews

9 faculty member + 5 administrators over 3 days
DLP 2.0 was designed to meet a range of needs, and specifically created the following outcomes:
a more consistent schedule across grades

more specific synchronous meetings in addition to asynchronous learning

increased synchronous learning for older grades (where it is most effective)
We realize that every family experience is very different, and so we have worked diligently to ensure that every student is able to participate in remote learning by providing laptops and iPads to families who need them. We have created an Emergency Supplemental Fund to support families and professional community members who are particularly vulnerable in this rapidly changing environment. And our librarian, Lisa Levin, has worked out a system such that families can continue checking out books without coming in directly to the library.
We are thankful to our community in so many ways – to our faculty for their hard work and ability to be flexible and adapt quickly, to our parents who are providing even more support as their students continue to learn at home, and to our students for gamely jumping into a new distance learning program with gusto. From continuing to create inspiring artwork to presenting culminating California Mission projects in virtual presentations, our students continue to thrive.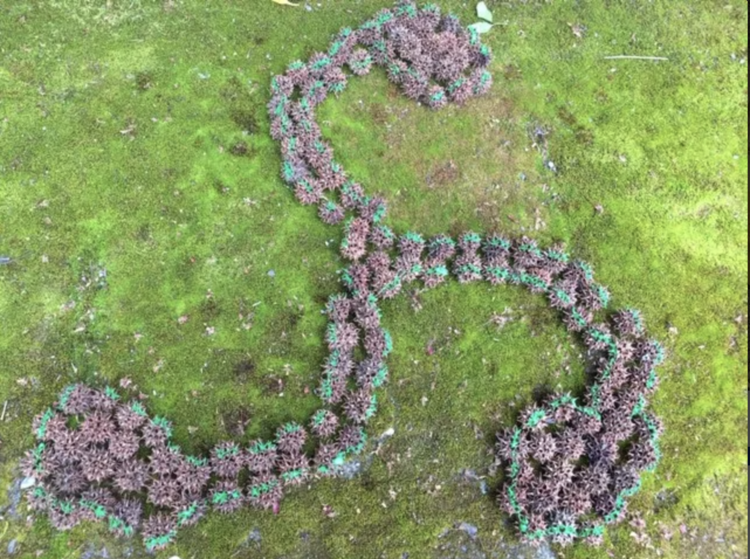 3rd Grade DLP Artwork Inspired by Andy Goldsworthy
As we recently completed the final touches on our school yearbook, we were teary eyed seeing the photos of joy and celebration of our community on our beautiful campus from earlier this year. And while we cannot wait to all be back on campus once again, we know we can make it through this challenge together.