MTS Cultural Day - Brazil
SLIDESHOW
Mount Tamalpais School celebrated the culture of Brazil at its 12th Annual Cultural Day. The jam-packed day was filled with fun Brazilian festivities including folk tales, samba dancers, capoeira, food, and workshops. Enjoy a recap below, as well as photos and videos from the amazing day.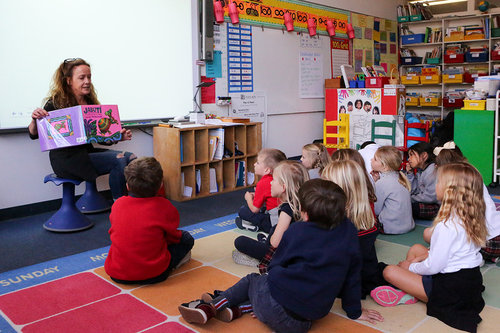 In the morning, parent volunteers visited lower school classes, leading students in projects and reading Brazilian stories. Rob Potter then kicked off the all school gathering with a keynote slide show presentation, offering a glimpse into the history, geography, and culture of Brazil that was then followed by Amor do Samba dancers Jazz Elaine Baptist and Halima Mahdee as well as a performance by the ABADA Capoeira Dance Troupe. After a lunch featuring Brazilian Cuisine of Pão de Queijo (Brazilian cheese bread), Bobo de Camarao (savory chowder), Empanadas, and Feijoada (black bean stew), the Middle School attended a series of afternoon workshop presentations as described below.
AFTERNOON WORKSHOPS - MIDDLE SCHOOL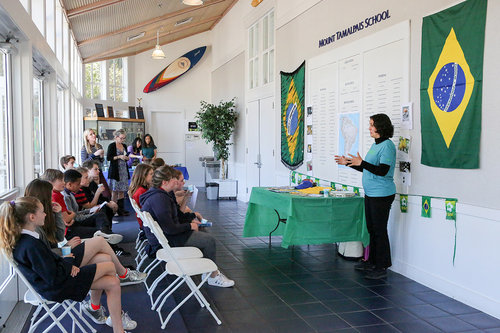 Brazilian Treasures and Treats - Jaiara Almeida Boudreaux shared interesting treasures and artifacts from Brazil. She talked about her experiences growing up in Brazil, and told her life stories about Brazilian food, animals (jaguars), school, Carnival, and soccer. Students also enjoyed delicious Brazilian lemonade and some treats of plantain chips.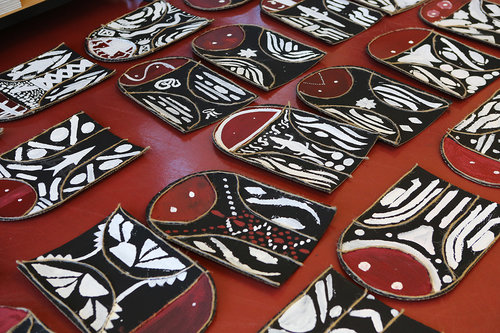 Brazilian Masks - MTS Art Teachers, Tyler Bewley and Evy Packer, introduced students to Kalapalo masks created by the Kalapalo indigenous tribe who live on the banks of the Xingu River in the Amazon Rainforest. The masks were made using acrylic paint and hemp on painted cardboard.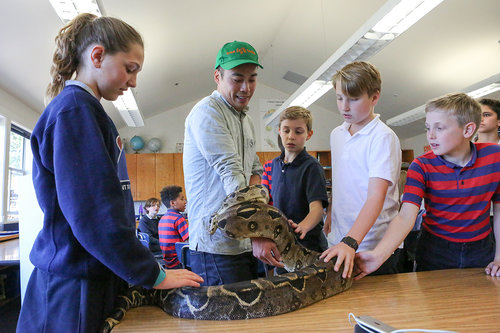 Rainforest Reptiles - Tree Frog Treks wowed students with Trucker the red-footed tortoise (not to be confused with a turtle!), a boa constrictor named Rocky, an orange tree frog, and a tarantula, all native to the Brazilian Amazon forest. Tortoises like Trucker are "pets-for-life" as they can live up to 80 years old, and they are veritable "garbage disposals" as they will eat just about anything, including carrion.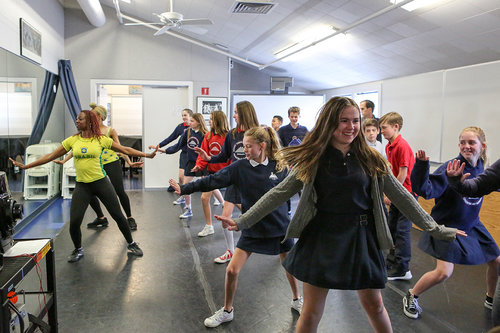 Samba Dance - Dancers Jazz Elaine Baptist and Halima Mahdee from Amor do Samba of San Francisco taught students some basic samba steps and then showed how to incorporate them into a short routine.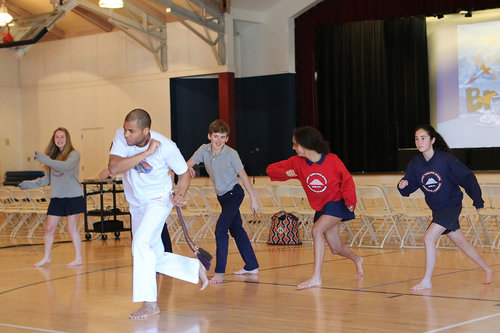 Capoeira - Capoeira is a Brazilian martial art that combines elements of dance, acrobatics, and music. Diego Fretias and Lisa Silva from ABADA Dance Troupe introduced students to some simple Capoeira techniques.
Pachamama Alliance - In the final workshop of the day, Pachamama Alliance gave a presentation on their organization. The Pachamama Alliance is a global community that works to empower the indigenous people of the Amazon Rainforest to preserve their lands and culture and, using insights gained from that work, to educate and inspire individuals everywhere to bring forth a thriving, just, and sustainable world.